A few days ago, there was a story circulating round that Lagos State Governor Akinwunmi Ambode, had ordered that welfare assistance be given to a Lagos based woman, Ruth Uche, whose husband abandoned her with three sets of twins.
And now, Uche has received further assistance from humanitarian organization
Voice of Divine Truth International Outreach (aka Voice of Change Network).
The organization gave her a cash donation, and offered her one of her sets of twins scholarship from primary to university level.
In a press release obtained via BellaNaija, the group's president
Gregory Azemobor
, stated:
I want to sincerely commend the Governor and the Speaker of Lagos State for their laudable acts of kindness and empathy. If all State governments tow this line, the citizens under them would lead better lives. Furthermore, I want to point out that the government alone cannot do everything. I want to appeal to everyone to look for the needy in the society and provide succor for them. Use what you have to be a blessing to the needy around you. If we embrace this practice, the world would be a better place. What we have done in giving scholarship to these children is in line with our Project-Care-For-A-Poor-Child Campaign which aims to encourage every matured individual in the world to take responsibility for the upkeep of a child that is not their biological child.

Ruth who earns a paltry #10,000 monthly salary as a teacher in a daycare Centre narrated her ordeal of sending her children to school. According to her, the children's fees is #10,000 per child, but thanks to the management of the school who asked her to pay #5,000 instead. She narrated how she uses her two months' salary to pay her four children's fees. As for the books and feeding, she says she teaches an evening class of six children who pays her #1,000 each monthly, which brings in additional #6,000 for the feeding and the upkeep of the family. The question is 'how can #6,000 cater for the needs of a growing family of seven?

Ruth is only one of such people in our society who needs to be shown love. Let's not wait for the government. You can do something no matter how little, to make life easier for someone."
Here are some photos from the group's visit to Ruth Uche and her children: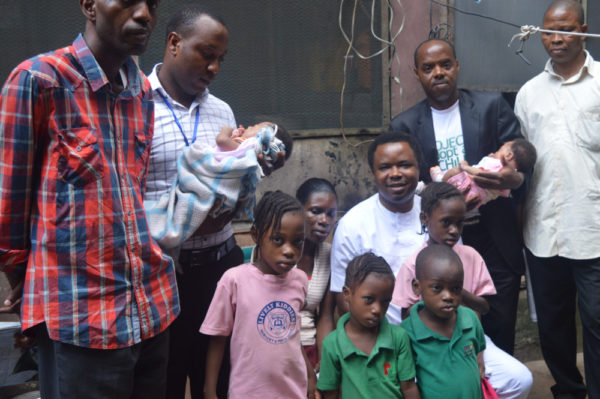 Pic Credit
: Voice of Divine Truth InternationalOutreach (aka Voice of Change Network)