The heart-wrenching story of the kidnapped Orekoya children captured the nation's attention, as we all eagerly anticipated the children's safe return to their parents. However, reports have surfaced on social media, stating that the children have been found.
Here is a Facebook post said to be by the children's mother: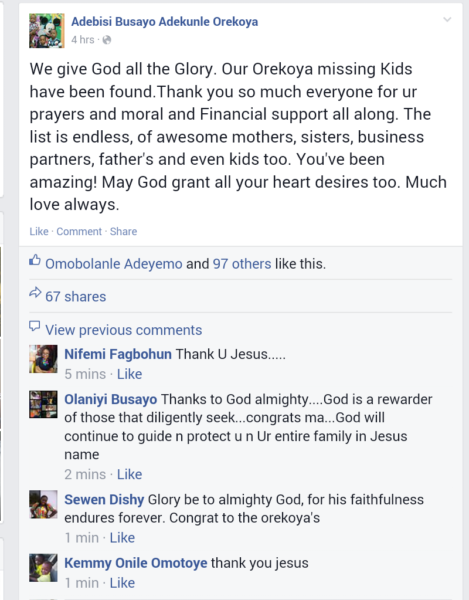 The Nigerian Twittersphere is also talking about it:
Thank God the Orekoya kids have been found! Halleluyah! God is truly a God of second chance! I pray the parents… http://t.co/qejQ3mY50P
— OluwaloMuyiwa (@Olumuyeewah) April 15, 2015
Orekoya kids have been restored to their family. To God be the glory.
— Wonder Woman (@Ohluwamayowa) April 15, 2015
Mother of missing Orekoya boys announces that they have been found | NigeriaTell, hope people learn from her mistake http://t.co/wpQ4R1bQ6N
— T kay oseleye (@osee80) April 15, 2015
Another development in the case: Police have arrested the 23-year-old nanny,
Mary Akinloye,
who kidnapped the children,
Punch
reports.
Lagos State Commissioner of Police, Kayode Aderanti, reportedly confirmed the news.