A few weeks ago comedian Kathy Griffin was announced as the replacement of late Fashion Police host, Joan Rivers but only after 7 episodes, Kathy Griffin has announced that she will be leaving the show.
Kathy Griffin announced her departure from the show via this posting on her Twitter account.
Read below;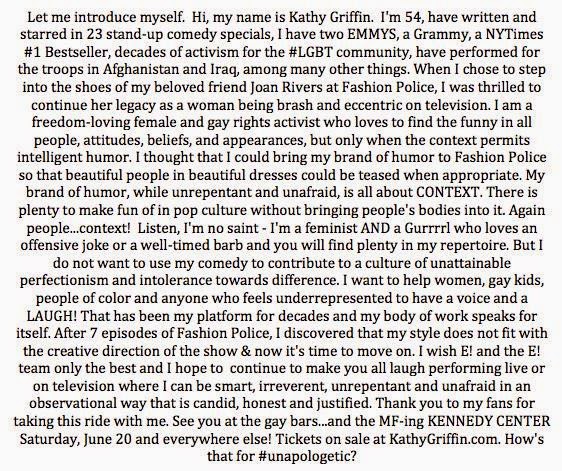 Kelly Osbourne, who exit the show 2 weeks ago, tweeted her support for Kathy, with a photo of them kissing. While E! Network has thanked Kathy Griffin for her contribution to the show, there has been no word on who will be replacing her or Kelly Osbourne.
In a statement, the channel said the next episode will air as scheduled March 30 with remaining co-hosts Giuliana Rancic and Brad Goreski, and with Melissa Rivers, Joan's daughter, as executive producer.
Pic Credit: Getty Images/Theo Wargo