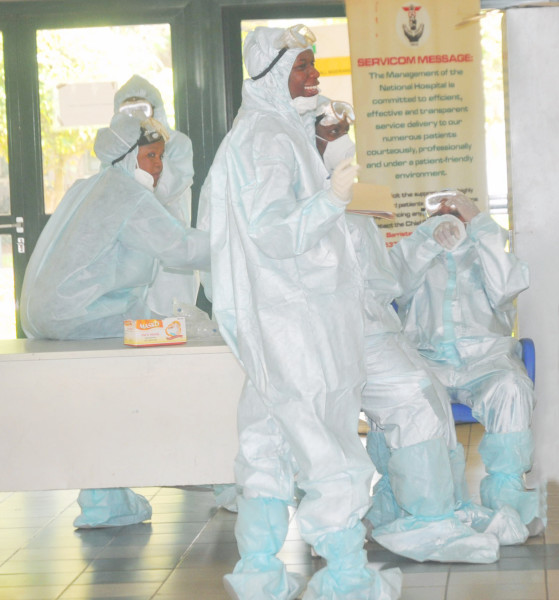 The first case of survival from the deadly Ebola virus disease (EVD) in Nigeria has been registered in the late hours of Saturday, August 16th, 2014. However, as speculations earlier held, the patient in question was not Dr. Ameyo Stella Adadevoh, but another female medical worker has been discharged. According to a new statement by the Ministry of Health, Dr. Adadevoh, in fact, has not been discharged.
However, a nurse, whose name was simply given as Ada, has reportedly recovered and returned back home on August 17, 2014, Sunday. Details have not been released in order not to trigger panic in communities, and for security reasons too. All what is known is that the lady is a medical officer at the same hospital, where Liberian-American Patrick Sawyer, who imported the EVD to Nigeria, passed away on July 25, 2014.
The sad aspect of this story is that Dr. Adadevoh's condition is actually not improving. According to a family source, who spoke with SaharaReporters, the treatment she received has no positive effect. The source also confirmed that Dr. Adadevoh is suffering in the isolation centre. It would be noted that Dr. Adadevoh was the first Nigerian to be diagnosed with EVD. The doctor, as well as other people whose cases have been confirmed gained lots of support and triggered a campaign on social media –
#GiveThemExperimentalDrugs
At the time of filing the present report, there is no confirmation neither on delivery, nor on commencement of the treatment with ZMapp experimental drug.
Below, is a statement released to the press:
It has been brought to the attention of the Honourable Minister of Health, Professor Onyebunchi Chukwu, that the first Nigerian to be diagnosed of Ebola Virus Disease, a female doctor who treated the index case and who was discharged home from the ward yesterday, is being reported in some sections of the media to be one Dr. Adadevoh.
The Honourable Minister wished to clarify that the name of the patient is not Dr. Adadevoh. This should be noted.
The minister's statement yesterday, while indicating that it was a female doctor, did not indicate the name of the patient.
Dan Nwomeh
Special Assistant on Media and Communication to the Minister